Discussion Starter
•
#1
•
I apologize if this has been asked before, I did do a search for 'click' and read many threads about various clicking sounds, but none seemed to be the same thing I am inquiring about.
As I am relatively new to the FX35 club, I don't know if what I am hearing is normal or not. I haven't taken it to a shop, or asked anywhere else, as everything seems to feel and drive normal. However, I do have the following question.
Do you hear, and is it normal to have, a clicking type (one click) when:
Engaging Drive or Reverse from Park, or going from Drive to Reverse, or Reverse to Drive. I've noticed a click sound as the car is set into a gear when I back out of the garage. The sound is not very loud, seems to only happen during loading of the drivetrain maybe. I can only hear it if the windows are down or sunroof is open. There are no jolts or thuds or anything that would indicate something being loose.
I've also heard this same noise when circling around my parking garage at work. The only way I can describe it's occurrence is possibly it's happening when the drivetrain is either loaded or unloaded by pressing gas pedal...but it's hard to say. When I come around a corner in the garage and hit accel, I can hear a click, then I roll to next turn, and upon accel out of turn I hear it again. Just a simple click sound, no other drama.
FX has 73k miles on it, and all other driving characteristics appear to be normal. This is an AWD version, is there some sort of actuator or something that makes this type of brief sound as the differentials or whatever engage and disengage?
Thanks for your help, if you know of a thread that answers this, please provide a link.
EDIT:
I made a couple vids of it. Keep in mind, this click isn't very loud, although it sounds crazy loud in these videos.
Single attempt, shifting from Park to Reverse:
Click is heard after first attempt, I repeatedly move shift lever from P to R to D and back and can't get sound to repeat. Only way to get sound is to actually drive vehicle out and back in, put in park then test: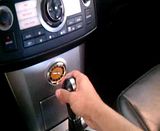 Cheers.