More speculation and theory: Why can I open an lock all the doors the first time? And why when it is hot outside my fob doesn't seem to lock/lock the passenger doors, but reliably locks and unlocks the drivers door?
Well... To state what I can confirm on my car: My new to me 2004 FX45 driver's door lock works fine and is reliable. However, the passenger front door and the passenger side rear door locks are weak and I sometime have to lock my doors twice to fully lock the latch with moves 1/2 way with every button push on the door console or with the fob. Note: Unlocking seems to be fine, but locking seems to be a problem.
I also have reviewed listed in the above post and I'm convinced the repair should not be done as shown using a hard washer. Instead you should use a bi-metal, PTC-R device, which is commonly used by refrigeration motors to "close" the circuit with 4 ohms resistance, and which acts to "open the circuit" when the PTC-R exceeds 1000 ohms. I.e., this is normally closed resistor that "opens" when the PTC-R heats up to 1000 Ohms with tanks only split seconds. ...And this what you want to protect the circuit I'm guessing is controlled by the BCM. ...Which means this door actuator motor with a PTC-R inside works like a resetable fuse that protects the BCM!!! ...So don't short the motor contacts using a simple lock washer as shown in the video. ...But other than this I learned something watching the video.
What I recommend is to NOT use a metal washer, but instead order some PTC-R on Amazon. And this is what a PTC-R looks like after you remove it from your refrigeration device (housing you don't need). It's that "wafer" the size of a nickel.
So when faced with repairing your old motor, I think you can do so by removing the PTC-R from this home refrigeration device you can order on Amazon for less than $12 and when you take the PTC-R out and put it into your Infiniti door actuator motor... assuming the PTCR will fit... your motor should start working strong again. Note: It does not matter if the PTC-R is round or square. But it has to fit so the motor can be reassembled.
Amazon.com: Refrigerator Compressor Relay and Overload Kit 5 Sets,Refrigerator Starters QP2-4R7 4.7 Ohm 1 Pin Refrigerator PTC Starter Relays and 6750C-0005P Freezer Overload Protectors : Appliances
Alternatively, you might try this, now that you know where the problem lies. ...Try taking out the old PTC-R from your old door actuator motor -- and just clean the contact points and reinstall.
So long as you don't break the brittle wafer when you pull it out you may find all you needed to do was clean the build up of corrosion. I would also try to reposition the PTC-R so you new contact points!
Note: These PTC-R devices are bi-metal semiconductor, normally closed, switches that "opens the circuit" when it gets hot and then resets to "close" the circuit when it cools down.
Or you can buy the whole motor on Ebay for ~$13ea and that's a better bet if you ask me: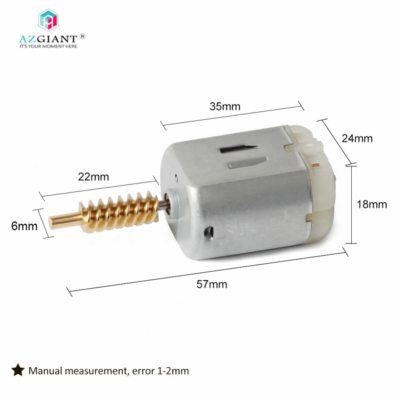 Find many great new & used options and get the best deals for Car Door lock Actuator Motor for Infiniti Q60 Q70 Q50L QX70 FX45 S50 SUV FX35 at the best online prices at eBay! Free shipping for many products!
CONCLUSIONS:
I think the reason ALL THE PASSENGER doors are affected, are because every time you unlock and lock the passenger doors with 2 clicks on the fob, all these actuator motors get worn out the same. So that sort of dispels the idea one bad motor affects the other.
And I would say the reason why my driver's door works fine is because I bet the previous owner already replaced the driver's side actuator assembly at the dealer, because otherwise the driver's side door would go out first since it gets the most use with just 1 fob button push.
So more than any other fix as mentioned above, I suppose replacing the Master Window & Door Lock Switch panel in the driver's door might help, but everyone says it's the motor inside the door lock actuator(s) that is causing this intermittent lock and unlock problem that does seem to be temperature dependent, because that what a PTC-R does; I.e., it heats up and then opens the circuit... rendering the motor inoperative.
CONCERNS:
I have read that when the door motors fail completely, you can't open the door manually or with a fob and you get locked in or locked out. ...And then you have to open your door by taking off the inside door panels WITH THE DOOR CLOSED and that does not look like fun according to this video: