Member
Join Date: Mar 2018
Location: PITTSBURGH, PA
Posts: 46
Mentioned: 0 Post(s)
Tagged: 0 Thread(s)
Quoted: 1 Post(s)
Mediabridge install: Where are battery, ground and accessory wires?
---
Hey folks,
I'm trying to ID the Batt (+12V from battery), ACC (switched 12V for accessory) & GND (car ground) wires on the radio's main harness. I have a mediabridge that I'm going to install on my '06 FX35. I've researched online for hours and finally came to understand that Nissan/Infiniti has a
propietary 10-pin connector
. I've looked at several of the pinouts for this same connector and consistently the assignments for Batt, GND & ACC are pins 6, 9 & 10.
Here is the location for the main harness (or rather power supply and front outputs) and where this 10 pin connector plugs into.
Here is that connector diagram (first one on left, top row):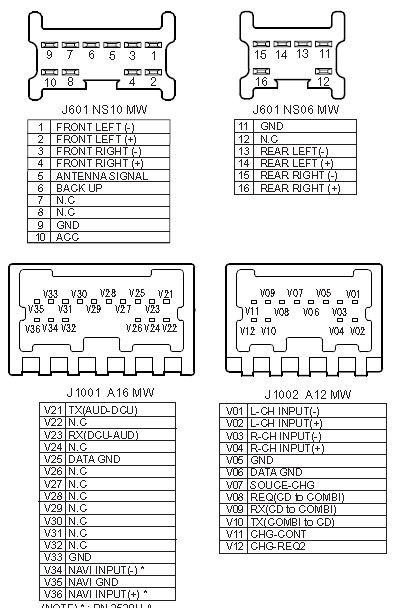 When I connected my multimeter to pins 6& 9 on the connector I got 0 volts. I turned on my ignition just to make sure and still got no volts. I tried doing the same with the switched ignition (ACC) & GND, pins 9&10 and got the same results - 0 volts even when switching the ignition on & off. What gives?
Not sure what I'm doing wrong, but can anyone tell me where I can get power, ground and switched voltage in this are of the car?
Thanks.
Member
Join Date: Mar 2018
Location: PITTSBURGH, PA
Posts: 46
Mentioned: 0 Post(s)
Tagged: 0 Thread(s)
Quoted: 1 Post(s)
I found them. see pinouts pic: